1

Getting Started and Getting Help
Introduction
This chapter sets the groundwork for the other chapters. It explains how to download, install, and run R.
More importantly, it also explains how to get answers to your questions. The R community provides a wealth of documentation and help. You are not alone. Here are some common sources of help:
Local, installed documentation

Package documentation

Question and answer (Q&A) websites

The web

Mailing lists
1.1

Downloading and Installing R
1.2

Installing RStudio
Problem
You want a more comprehensive integrated development environment (IDE) than the R default. In other words, you want to install RStudio Desktop.
Solution
Over the past few years RStudio has become the most widely used IDE for R. We are of the opinion that most all R work should be done in the RStudio Desktop IDE unless there is a compelling reason to do otherwise. RStudio makes multiple products including RStudio Desktop, RStudio Server, and RStudio Shiny Server, just to name a few. For this book we will use the term RStudio to mean RStudio Desktop, though most concepts apply to RStudio Server as well.
To install RStudio, download the latest installer for your platform from the [RStudio website]https://www.rstudio.com/products/rstudio/download/.
The RStudio Desktop Open Source License version is free to download and use.
Discussion
This book was written and built using RStudio version 1.2.x and R versions 3.5.x. New versions of RStudio are released every few months, so be sure to update regularly. Note that RStudio works with whichever version of R you have installed. So updating to the latest version of RStudio does not upgrade your version of R. R must be upgraded separately.
Interacting with R is slightly different in RStudio than in the built-in R user interface. For this book, we've elected to use RStudio for all examples.
1.3

Starting RStudio
1.3.1

Problem

You want to run RStudio on your computer.
1.3.2

Solution

A common mistake made by new users of R and RStudio is to accidentally start R when they intended to start RStudio. The easiest way to ensure you're actually starting RStudio is to search for RStudio on your desktop OS. Then use whatever method your OS provides for pinning the icon somewhere easy to find later.
Windows

Click on the Start Screen menu in the lower-left corner of the screen. In the search box, type **RStudio**.

macOS

Look in your launchpad for the RStudio app or press Command-space and type **Rstudio** to search using Spotlight Search.

Ubuntu

Press Alt-F1 and type **RStudio** to search for RStudio.
1.3.3

Discussion

It's easy to get confused between R and RStudio because, as you can see in Figure 1.1, the icons look similar.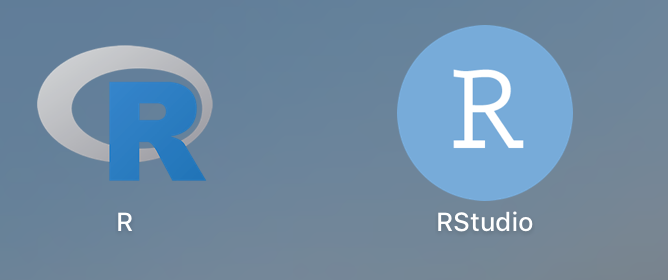 If you click on the R icon, you'll be greeted by something like Figure 1.2, which is the Base R interface on a Mac, but certainly not RStudio.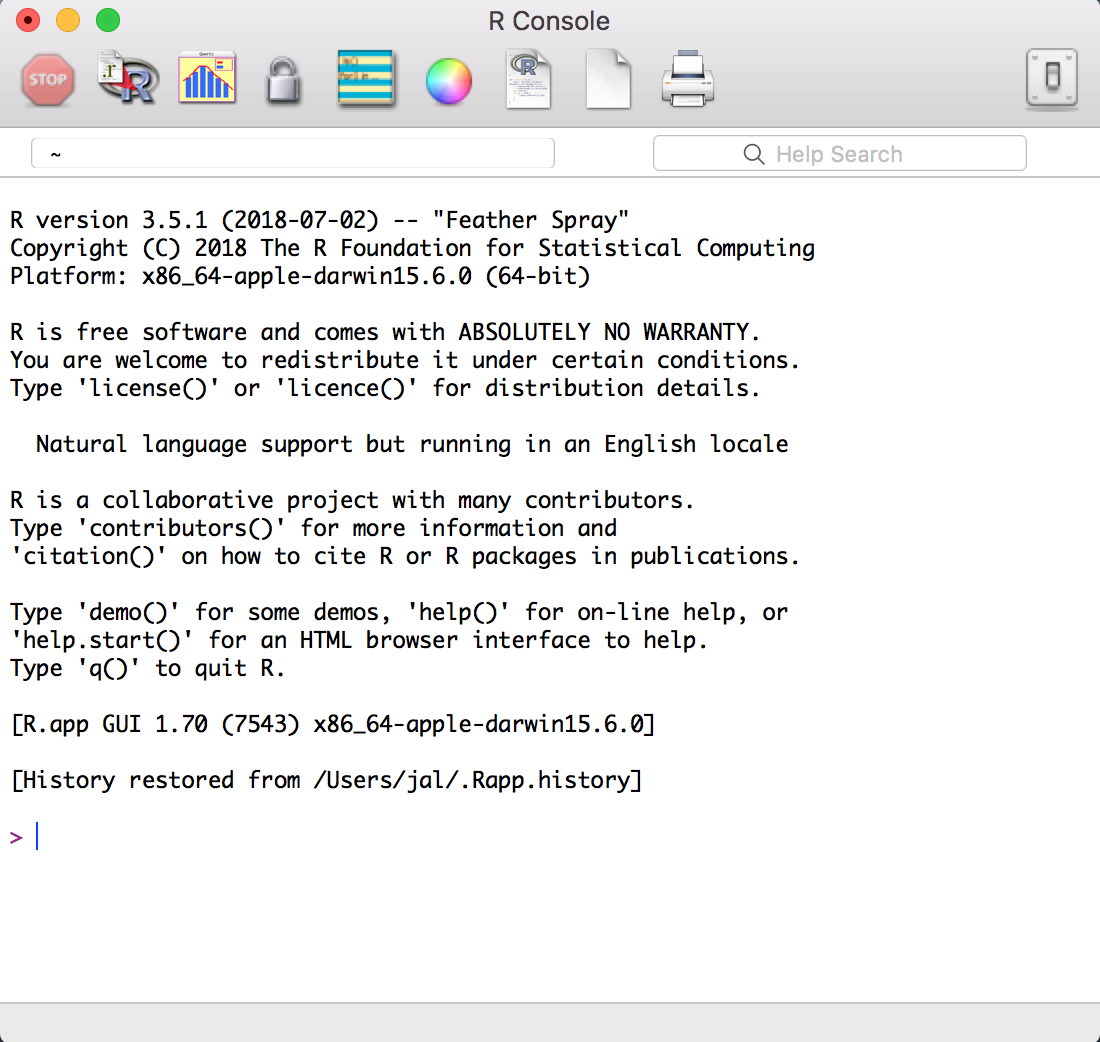 When you start RStudio, by default it will reopen the last project you were working on in RStudio.
1.4

Entering Commands
Problem
You've started RStudio. Now what?
Solution
When you start RStudio, the main window on the left is an R session. From there you can enter commands interactively directly to R.
Discussion
R prompts you with >. To get started, just treat R like a big calculator: enter an expression, and R will evaluate the expression and print the result:
The computer adds 1 and 1, and displays the result, 2.
The [1] before the 2 might be confusing. To R, the result is a vector, even though it has only one element. R labels the value with [1] to signify that this is the first element of the vector… which is not surprising, since it's the only element of the vector.
R will prompt you for input until you type a complete expression. The expression max(1,3,5) is a complete expression, so R stops reading input and evaluates what it's got:
In contrast, max(1,3, is an incomplete expression, so R prompts you for more input. The prompt changes from greater-than (>) to plus (+), letting you know that R expects more:
It's easy to mistype commands, and retyping them is tedious and frustrating. So R includes command-line editing to make life easier. It defines single keystrokes that let you easily recall, correct, and reexecute your commands. Our typical command-line interaction goes like this:
I enter an R expression with a typo.

R complains about my mistake.

I press the up-arrow key to recall my mistaken line.

I use the left and right arrow keys to move the cursor back to the error.

I use the Delete key to delete the offending characters.

I type the corrected characters, which inserts them into the command line.

I press Enter to reexecute the corrected command.
That's just the basics. R supports the usual keystrokes for recalling and editing command lines, as listed in Table 1.2.
Table 1.2:

R command shortcuts

| Labeled key | Ctrl-key Combo | Effect |
| --- | --- | --- |
| Up arrow | Ctrl-P | Recall previous command by moving backward through the history of commands. |
| Down arrow | Ctrl-N | Move forward through the history of commands. |
| Backspace | Ctrl-H | Delete the character to the left of the cursor. |
| Delete (Del) | Ctrl-D | Delete the character to the right of the cursor. |
| Home | Ctrl-A | Move the cursor to the start of the line. |
| End | Ctrl-E | Move the cursor to the end of the line. |
| Right arrow | Ctrl-F | Move the cursor right (forward) one character. |
| Left arrow | Ctrl-B | Move the cursor left (back) one character. |
| | Ctrl-K | Delete everything from the cursor position to the end of the line. |
| | Ctrl-U | Clear the whole darn line and start over. |
| Tab | | Complete the name (on some platforms). |
On most operating systems, you can also use the mouse to highlight commands and then use the usual copy and paste commands to paste text into a new command line.
1.6

Interrupting R
Problem
You want to interrupt a long-running computation and return to the command prompt without exiting RStudio.
Solution
Press the Esc key on your keyboard, or click on the Session menu in RStudio and select Interrupt R. You may also click on the stop sign icon in the code console window.
Discussion
Interrupting R means telling R to stop running the current command but without deleting variables from memory or completely closing RStudio. That said, interrupting R can leave your variables in an indeterminate state, depending upon how far the computation had progressed, so check your workspace after interrupting.
1.7

Viewing the Supplied Documentation
1.8

Getting Help on a Function
1.9

Searching the Supplied Documentation
1.10

Getting Help on a Package
1.11

Searching the Web for Help
1.12

Finding Relevant Functions and Packages
1.13

Searching the Mailing Lists
1.14

Submitting Questions to Stack Overflow or Elsewhere in the Community