13

Beyond Basic Numerics and Statistics
Introduction
This chapter presents a few advanced techniques such as those you might encounter in the first or second year of a graduate program in applied statistics.
Most of these recipes use functions available in the base distribution. Through add-on packages, R provides some of the world's most advanced statistical techniques. This is because researchers in statistics now use R as their lingua franca, showcasing their newest work. Anyone looking for a cutting-edge statistical technique is urged to search CRAN and the web for possible implementations.
13.1

Minimizing or Maximizing a Single-Parameter Function
13.2

Minimizing or Maximizing a Multiparameter Function
13.3

Calculating Eigenvalues and Eigenvectors
Problem
You want to calculate the eigenvalues or eigenvectors of a matrix.
Solution
Use the eigen function. It returns a list with two elements, values and vectors, which contain (respectively) the eigenvalues and eigenvectors.
Discussion
Suppose we have a matrix such as the Fibonacci matrix:
Given the matrix, the eigen function will return a list of its eigenvalues and eigenvectors:
Use either eigen(fibmat)$values or eigen(fibmat)$vectors to select the needed value from the list.
13.4

Performing Principal Component Analysis
13.5

Performing Simple Orthogonal Regression
13.6

Finding Clusters in Your Data
Problem
You believe your data contains clusters: groups of points that are "near" each other. You want to identify those clusters.
Solution
Your dataset, x, can be a vector, data frame, or matrix. Assume that n is the number of clusters you desire:
The result, clust, is a vector of numbers between 1 and n, one for each observation in x. Each number classifies its corresponding observation into one of the n clusters.
Discussion
The dist function computes distances between all the observations. The default is Euclidean distance, which works well for many applications, but other distance measures are also available.
The hclust function uses those distances to form the observations into a hierarchical tree of clusters. You can plot the result of hclust to create a visualization of the hierarchy, called a dendrogram, as shown in Figure 13.2.
Finally, cutree extracts clusters from that tree. You must specify either how many clusters you want or the height at which the tree should be cut. Often the number of clusters is unknown, in which case you will need to explore the dataset for clustering that makes sense in your application.
We'll illustrate clustering of a synthetic dataset. We start by generating 99 normal variates, each with a randomly selected mean of either –3, 0, or +3:
For our own curiosity, we can compute the true means of the original clusters. (In a real situation, we would not have the means factor and would be unable to perform this computation.) We can confirm that the groups' means are pretty close to –3, 0, and +3:
To "discover" the clusters, we first compute the distances between all points:
Then we create the hierarchical clusters:
And we can plot the hierarchical cluster dendrogram by calling plot on the hc object: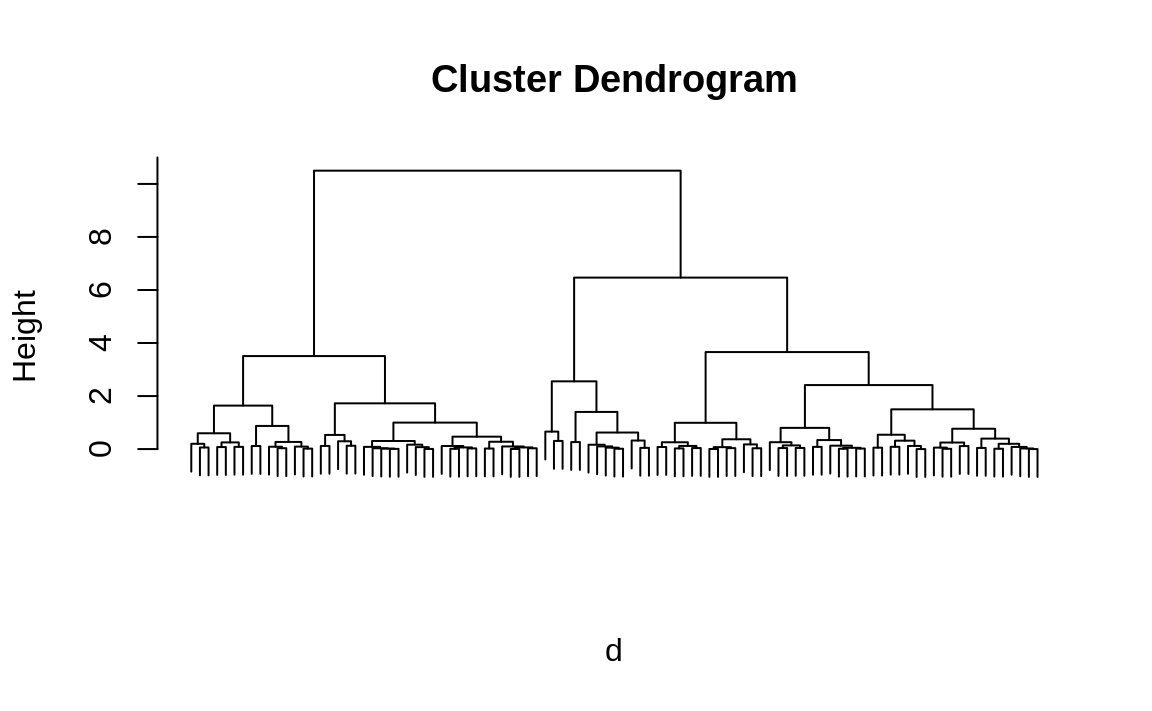 Figure 13.2 allows us to now extract the three largest clusters. Obviously, we have a huge advantage here because we know the true number of clusters. Real life is rarely that easy. However, even if we didn't already know we were dealing with three clusters, looking at the dendrogram gives us a good clue that there are three big clusters in the data.
clust is a vector of integers between 1 and 3, one integer for each observation in the sample, that assigns each observation to a cluster. Here are the first 20 cluster assignments:
By treating the cluster number as a factor, we can compute the mean of each statistical cluster (see Recipe 6.6), "Applying a Function to Groups of Data"):
R did a good job of splitting data into clusters: the means appear distinct, with one near –2.7, one near 0.27, and one near +3.2. (The order of the extracted means does not necessarily match the order of the original groups, of course.) The extracted means are similar but not identical to the original means. Side-by-side boxplots can show why: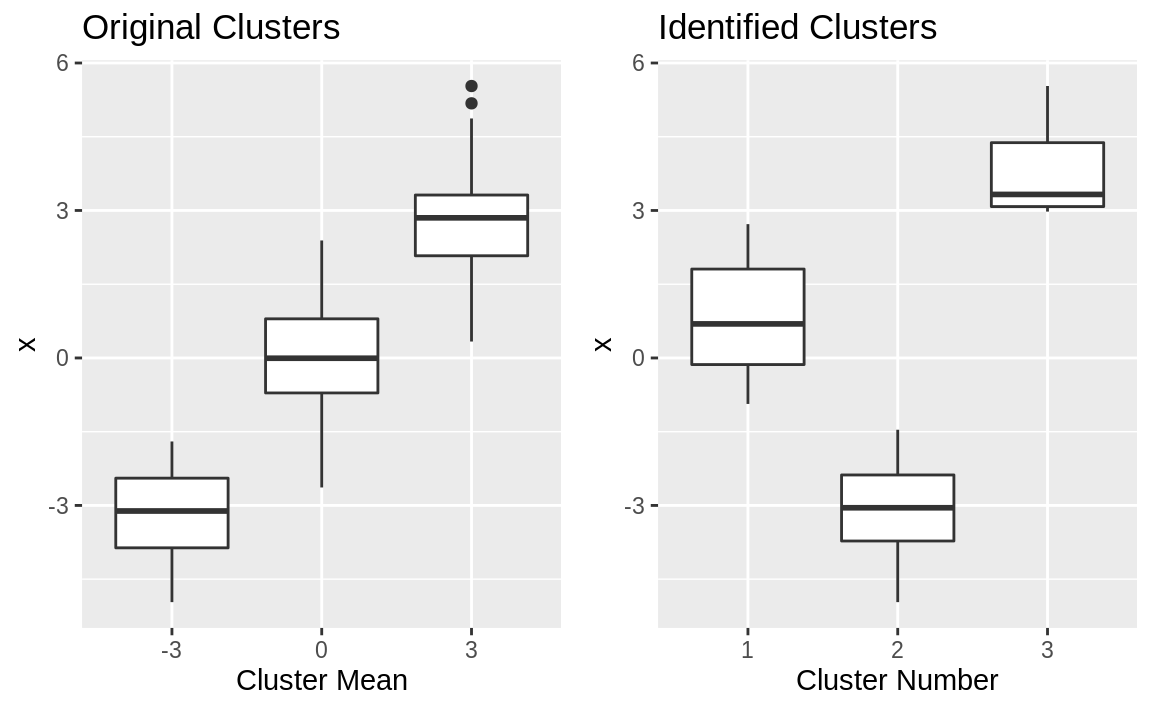 The boxplots are shown in Figure 13.3. The clustering algorithm perfectly separated the data into nonoverlapping groups. The original clusters overlapped, whereas the identified clusters do not.
This illustration used one-dimensional data, but the dist function works equally well on multidimensional data stored in a data frame or matrix. Each row in the data frame or matrix is treated as one observation in a multidimensional space, and dist computes the distances between those observations.
See Also
This demonstration is based on the clustering features of the base package. There are other packages, such as mclust, that offer alternative clustering mechanisms.
13.7

Predicting a Binary-Valued Variable (Logistic Regression)
Problem
You want to perform logistic regression, a regression model that predicts the probability of a binary event occurring.
Solution
Call the glm function with family = binomial to perform logistic regression. The result is a model object:
Here, b is a factor with two levels (e.g., TRUE and FALSE, 0 and 1), while x1, x2, and x3 are predictor variables.
Use the model object, m, and the predict function to predict a probability from new data:
Discussion
Predicting a binary-valued outcome is a common problem in modeling. Will a treatment be effective or not? Will prices rise or fall? Who will win the game, team A or team B? Logistic regression is useful for modeling these situations. In the true spirit of statistics, it does not simply give a "thumbs up" or "thumbs down" answer; rather, it computes a probability for each of the two possible outcomes.
In the call to predict, we set type = "response" so that predict returns a probability. Otherwise, it returns log-odds, which most of us don't find intuitive.
In his unpublished book entitled Practical Regression and ANOVA Using R, Julian Faraway gives an example of predicting a binary-valued variable: test from the dataset pima is true if the patient tested positive for diabetes. The predictors are diastolic blood pressure and body mass index (BMI). Faraway uses linear regression, so let's try logistic regression instead:
The summary of the resulting model, m, shows that the respective p-values for the diastolic and the bmi variables are 0.8 and (essentially) zero. We can therefore conclude that only the bmi variable is significant:
Because only the bmi variable is significant, we can create a reduced model like this:
Let's use the model to calculate the probability that someone with an average BMI (32.0) will test positive for diabetes:
According to this model, the probability is about 33.3%. The same calculation for someone in the 90th percentile gives a probability of 54.9%:
See Also
Using logistic regression involves interpreting the deviance to judge the significance of the model. We suggest you review a text on logistic regression before attempting to draw any conclusions from your regression.
13.8

Bootstrapping a Statistic